WESTBROOK SCHOOL DEPARTMENT
FAST FACTS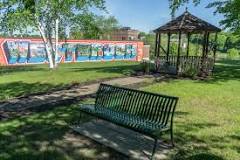 City of Westbrook
18,600 residents

8073 Households (2.3 people/per)

18% under 18: 18% over age 65

89% White, 5% Black, 2% Asian

8% born outside of US

English, Arabic & Portuguese

60% single family homes ($232,900)

Median monthly rent $1020

85% Internet connectivity

95% High School Graduates

32% BA degree or above

10,289 people employed

$59,640 median household income

16% in poverty
Westbrook School Department
2400 students, PK-12 , 400 WRVC, 400 Adult Education

62% Free-Reduced Meal

68% White, 20% BIPOC, 6% Asian, 4% Latino or Hispanic

23% Students with Disabilities

3% Gifted and Talented

20% Multilingual Students

Major Languages: English, Arabic, Portuguese, French, Somali, Spanish

Transiency: 16% in, 8% out

Homeless: Approx. 5%

Approx. 25 ISS, 25 OSS, 0 Expulsions

531 HS Athletes; 150 MS Athletes

300 in HS Activities; 500 MS Activities

Achievement

Reading: El: 45% MS: 51% HS: 62%;

Math: El: 42% MS: 38% HS: 56%
Westbrook High School
125 Stroudwater Street
Grades 9-12
Approx. 700 students
Blue Blazes
Blue and White.
Established 1873.
Current school built in 1954. Renovations in 1964 and 1991.
NEASC accredited.
Co-Principals Patrick Colgan, Jeff Guerette, Wendy Harvey. Interim Athletic Director Beth Murphy.
Westbrook Regional Vocational Center
125 Stroudwater St.
Regional Career and Technical Education Center serving Westbrook, Gorham, Bonny Eagle, Windham, and Scarborough High School
16 trade programs
Multiple dual enrollment and certification programs
NEASC Accredited
Established 1950s.
Built in 1990.
Director Todd Fields. Assistant Director Gloria Noyes.
Westbrook Middle School
471 Stroudwater St.
Grades 5-8
Approx. 800 students
Falcons
Green and White
Built in 2009
Home of Westbrook Performing Arts Center
Principal Laurie Wood. Assistant Principals Pattie DeMaria and Sam Chatto.
Canal Elementary School
102 Glenwood Ave.
Grades PK-4
Approx. 200 students
Built in 1954, renovated in 2000
Canal Coyotes
Blue and White
Principal Vickie Hebert.
Congin Elementary School
410 Bridge St.
Grades PK-4
Approx. 300 students
Built in 1974, renovated in 2004
Congin Cougars
Blue and Gold
Principal Marc Bisson
Saccarappa Elementary School
110 Huntress Ave.
Grades PK-4
Approx. 400 students
Built in 1956, expanded in 1990 and 2019
Saccarappa Shining Stars
Purple and Gold
Principal Alexis Jones. Assistant Principal Bonnie Hicks.
DISTRICT LEADERSHIP
Superintendent of Schools:
Dr. Peter Lancia
Assistant Superintendent:
Dr. Kim O'Donnell
Director of School Finance:
Dr. Brian Mazjanis
Director of Human Resources:
Martha Sumner
Director of Special Services:
Kelli Fogg
Director of Multilingual Programs:
Regina Clement
Equity Resources Coordinator:
Amanda Atkinson-Lewis
Director of Instructional Technology
Barbara Morgan
Director of Transportation
Melissa Foye
Director of School Nutrition
Mary Emerson
Director of Facilities and Maintenance
Tony Lombardo
WESTBROOK SCHOOL COMMITTEE
Suzanne Salisbury, Chair At Large
Beth Schultz, Vice-Chair, Ward 5
Jessica Foley, Ward 2
Jeremy McGowan, At Large
Andrea Mancuso, Ward 4
Noreen Poitras, Ward 3
Katy Rice, Ward 1
School Committee Meetings are held on the second Wednesday of every month except July.
Standing Committees:
Educational Programs
Finance
Policy
Facilities